Brača Alpina is the latest Down River paddle model designed for use in extreme conditions where stability and maneuverability is essential. The blade moves smoothly through the water with minimal sideways slip, giving maximum steering control.
The edge of the blade is reinforced with a special Kevlar yarn all around, which makes it highly impact resistant. The CNC machined special foam core gives it extra strength to withstand strong forces from all directions. It meets all ICF rules and regulations.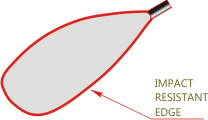 Shaft Stiffnes Measurement Process

Adjustable Shaft System
All Brača Aplina paddles are available with a fixed shaft or a Metal Adjustable Shaft System. This allows elegant adjustment of overall paddle length (within 5cm range) and blade angle from 0° to 80° right or left. The system also allows you to disassemble the paddle into two parts for easy transportation. IMPORTANT! Always clean your adjustable shaft regularly! When used in saltwater conditions, clean with freshwater after each use, otherwise disassemble and clean every three days. Store your adjustable paddle disassembled if not used for more than two weeks!
Adjustable shaft system is NOT included in price of the paddle. It is sold separately. See the product on the link Adjustable Shaft System