Brača Typhoon has been designed to provide well balanced characteristics of lightness, ease of use and extreme durability.
The Typhoon has a very clean center spine, incorporated into the blade for optimal tracking stability. Its exceptional strength fully withstands intense conditions and performs flawlessly in the open ocean, rivers and lakes.
All traditional sea kayak paddles have specially reinforced edges.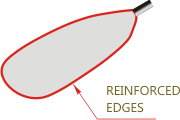 You can also choose the stiffness of the shaft. We recommend a stiffer shaft for bigger blades but any combination is possible. See the shaft stiffness measurement prodecure and parameter table below.
Adjustable Shaft System
All Brača Typhoon paddles are available with a Metal Adjustable Shaft System. This allows elegant adjustment of overall paddle length (within 5cm range) and blade angle from 0° to 80° right or left. The 20% and 60% carbon shafts are available with the more economical Plastic I system. Both versions allow you to disassemble the paddle into two parts for easy transportation.
 IMPORTANT!
Always clean your adjustable shaft regularly!
Store your adjustable paddle disassembled if
not used for more than two weeks!
See the maintenance page for details.
Adjustable shaft system is NOT included in price of the paddle. It is sold separately. See the product on the link Adjustable Shaft System