Brača Slalom Sjoa is the new line of Brača kayak slalom and freestyle paddles designed and engineered to enable very fast and effective management of the strokes and maneuverability. This design facilitates the ultimate control of the stroke in every phase. The blade has a flat surface in two horizontal and vertical lines; CNC machined, though, durable core; sandwich titanium stiffener and 12 mm wide solid edge reinforced with High Modulus Unidirectional Carbon.
Our revolutionary molding technology process guarantees the shape and dimensions of all paddles to be identical and precise.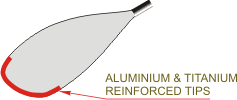 Adjustable Shaft System
All Brača Slalom Sjoa paddles are available with an Adjustable Shaft System. This allows elegant adjustment of overall paddle length (within 5cm range) and blade angle from 0° to 80° right or left in 5° increments. The system also allows you to disassemble the paddle into two parts for easy transportation.

IMPORTANT!

Always clean your adjustable shaft regularly!

Store your adjustable paddle disassembled if

not used for more than two weeks!

See the 

maintenance page

 for details.
Adjustable shaft system is NOT included in price of the paddle. It is sold separately. See the product on the link Adjustable Shaft System
Available Options and Technical Parameters:
Blade
Shaft
Carbon content
Total
Weight
(g/oz)
Surface area
(cm2/in2)
Length
(cm)
Width
(cm)
Alu. Tips
Stiffness*
(mm)
Full
Adjustable
Blade
(%)
Shaft
(%)
Brača Slalom
Sjoa 725
(old size: max)
725/112.2
47.0
20.5
●
Hard 2.7-2.9
Medium 3.5-3.7
Soft 4.2-4.5
●
●
●
●
●
●
100
100
720/25.4
Brača Slalom
Sjoa 695
(old size: min)
695/107.7
46.5
19.7
●
100
100
690/24.3
* We recommend stiffer shafts for bigger blades and stronger athletes.